0

Bug? -- Dynamic Value Name not working for Radio Buttons view
Background: dynamic choice field.
The value is the name of the fields plus the sum of an "Amount" field
Error and Symptons
 when the dynamic choice is displayed as Radio Buttons the sums are not updated dynamically... one has to **explicitly** select/deselect one item and de-seletc/re-select again for the label to update!

it works perfectly when the object is shown as Switch
Code
Here is an example:
Tables: Items, Acquisitions.
'Items' contains only ItemA, ItemB, etc
'Acquisitions' has a table with the acquired items and an overview of the items and the acquired quantities ---> this is the dynamic choice
1) After entering some items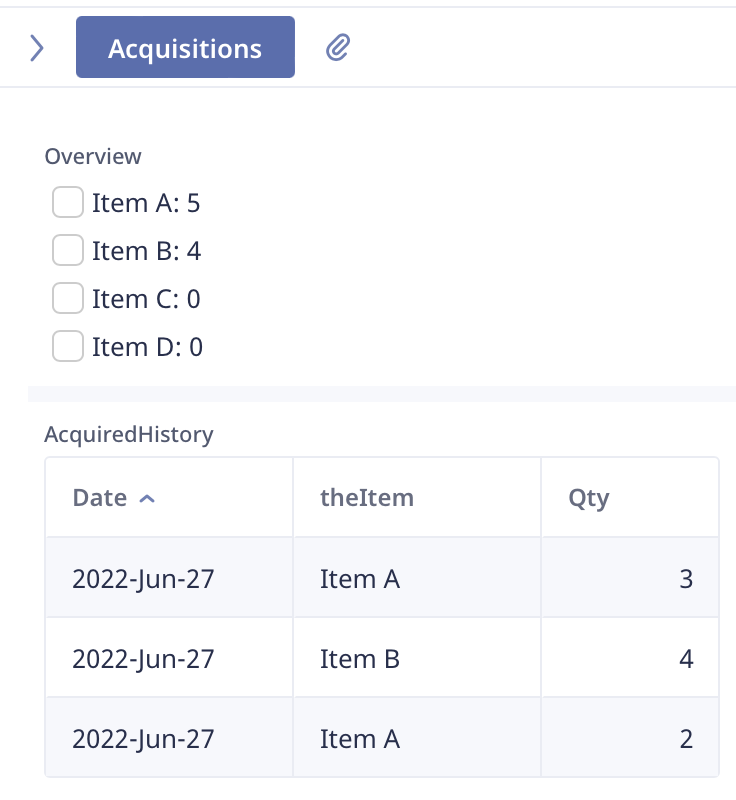 2) now lets enter a new Acquisition with eg item C,
As can be seen: Item C is NOT reflected in the dynamic name in the Overview. Same, if I change the Qty in an item....
---> to update the value one has to **manually** actuate on any enter of the 'Overview' object.
But if I choose the Switch view there is no problem.
The code for the 'Overview' Object
select Items
The code for the Name of the 'Overview' object
let theItemName := text(Name);
let theTotal := sum((select AcquiredHistory)[text(theItem) = theItemName].Qty);
theItemName + ": " + theTotal
Anyone has other experience?
I tried this in several DBs....
As a workaround I could try to manually actuate on the 'Overview"... eg by reading the selected value and reselecting them (but I have not found a good way to do it)
Hi Luis

Using a select outside a button or trigger will always be problematic. The select outside of this needs some action on the record, like a field update, to cause it to trigger and I guess displaying the radio buttons are not enough to do this. Are you able to have the figure you need as a formula in the parent table and access it from there?

Regards John